We help organisations make complex decisions by designing, implementing and facilitating decision processes based on the 'P5 Decision Framework'.
The P5 Decision Framework applies the core principles of Decision Thinking consistently across five phases.  It is applicable to large and small decisions, including portfolio generation, consideration of investments, strategy development and more.
Following the P5 Decision Framework will result in clear prioritisation of your options and identification of where you should invest or place your attention.  It will allow you to see which aspects of your strategy should be implemented, which should not, and in what order.
The P5 Decision Framework guides you to identify the decisions that underpin your problem, understand what your stakeholders value, identify your options and rigorously compare them, produce an order of relative priority and – ultimately – package all that rich information into a sensible solution.
The 'P5 Decision Thinking Framework' consists of five phases:
Plan: Set up the decision process for success
Prepare: Define and develop core components of the decision process
Prioritise: Agree overall priority of options by evaluating them against the criteria
Package: Develop an optimal and coherent portfolio(s) that meets constraints (e.g. resources, time, capability etc) and considers dependencies and trade-offs
Present: Create clear recommendations for decision-maker commitment
The results? You achieve the best outcome overall, while having impacted stakeholders directly involved in the decision-making process – which means the decision will stick!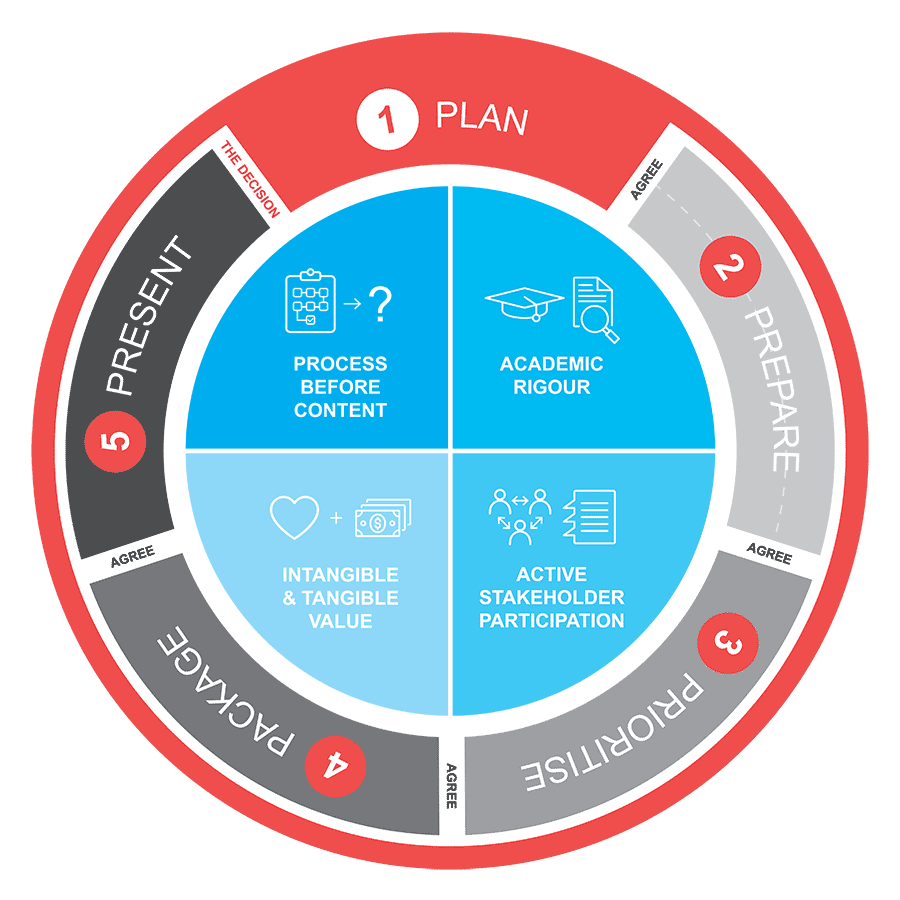 Having a credible and trusted process as the guide through these considerations gave not only the Defence Force an agreed process to balance the competing priorities of the Navy, Army and Air Force, but most importantly it re-assured the Treasury and Political stakeholders that there was a transparent and robust process being used. The confidence that such a process provided to the ultimate decision-makers was the key to the success of the Review.